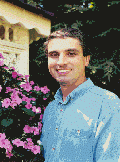 Gardening lectures by
Pernell Gerver - broad-range horticulturist, lecturer,
garden writer, TV personality, and award-winning gardener

Some lectures and workshops feature a narrated, two-projector, dissolve slide show. If you do not want a slide program, lectures without slides, workshops, or demonstrations are possible when available. Included in each lecture is a Question & Answer session following the program. Presentations include a plant sale of rare, hard-to-find, and useful plants and gardening products. Each program is approximately 45 minutes to 1 hour long, plus Q&A. Contact for speaker's fee. Will travel - I go anywhere in the world. Serving all garden clubs in New England and beyond. Professional programs at affordable prices!
Please click on a topic title below for a detailed program description. To book a lecture, click on the link below. Feel free to print out any program descriptions or biography for your program committee.