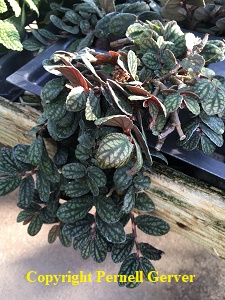 Trailing Watermelon Begonia (Pellionia repens): to 12", This trailing house plant has elongated leaves that are held opposite one another along its hanging stems. The leaves are olive green with deep-green veins and resemble a watermelon rind. A nice choice for a terrarium where its creeping stems act as a groundcover. Available in two sizes:
A live plant in a 3" pot - $10 each or 3 for $28.50 - You save $1.50!
---
A live plant in a 3" pot in a 6" hanging pot - $20 or 3 for $57.00 - You save $3.00!