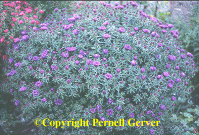 New England aster is a native perennial and there are many different cultivars that hybridizers have developed that are improvements over the native wildflower. Aster 'Purple Dome' is one of the best. Growing just 18 inches tall, it forms a perfect dome of foliage and flowers. It's covered with small, daisy-like, purple flowers in September and October. It's a great substitute for hardy mums which aren't always hardy.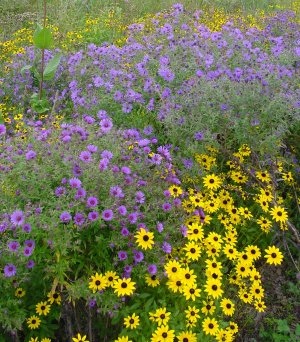 New York aster is also a native perennial. It's a taller aster, averaging three feet tall or so. Atop its stems are clusters of single and semi-double, daisy-like flowers. Flower color includes white, rose, and shades of blue from sky blue to lavender blue.
White wood aster is another native wildflower aster. Unlike many asters, this type of aster grows well in shade. In the wild, it grows in deciduous woods as an understory plant. In the garden it prefers part sun to shade. Shiny, airy, purple stems carry small, pure-white daisies with golden-yellow centers. It begins blooming in September and continues blooming into October. It grows two to three feet high and as wide.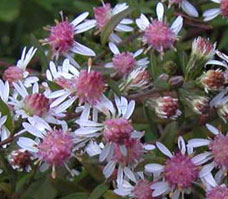 Aster lateriflorus 'Lady in Black' is a very eye-catching aster. It has striking plum-purple foliage that in itself is attractive in the garden especially when combined with silver- or gray-leaved plants. In September it bears dozens and dozens of small white daisies with raspberry-pink centers held on long slender flower stems that are carried horizontally. The contrast of the flowers and foliage is stunning. It grows three to four feet high.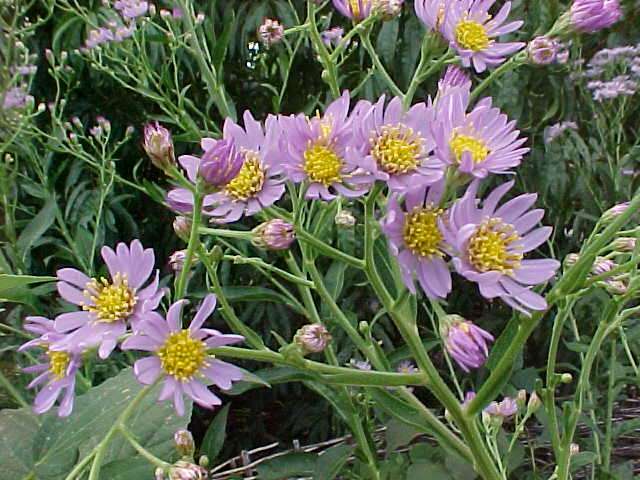 Aster tataricus is one of the latest-blooming asters. It's also one of the tallest, reaching heights of six to seven feet tall. Atop its tall stems are clusters of inch-wide lavender daisies. It begins blooming in very late fall and is one of the last plants of any kind to bloom in the garden.
These are just some of the many different fall asters. At my free gardening workshop this week I'll have a large selection of these and many fall asters for sale. See the "If You Go" box for more information.