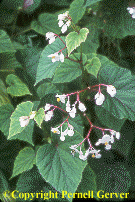 White hardy begonia is even more rare than pink hardy begonia. It has the same light-green, angel-wing-shaped foliage with maroon undersides and deep-red veins. Its flowers are pure white and begin blooming in midsummer and continue to frost. Like pink hardy begonia, it self sows, increasing the original planting. It grows 12 to 18 inches tall and wide and thrives in shade to part sun.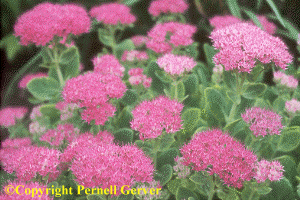 Sedum 'Brilliant' begins blooming in late summer and continues into fall. It bears large, flat-topped clusters of brilliant-pink flowers atop attractive, chartreuse, fleshy foliage. Instead of deadheading the flowers once they go by, I leave the flowers on the plant through winter because they catch and hold snow, providing winter interest. Sedum 'Brilliant' forms a handsome clump a foot and a half tall and wide.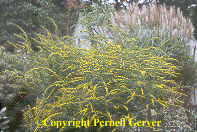 Goldenrod 'Fireworks' is a graceful plant with long arching sprays of bright yellow flowers that appear in late summer and continue into autumn. The flower sprays really look like fireworks exploding. It grows three to four feet tall and prefers a sunny location. The long stems are good for cutting. This cultivar is a special hybrid that was bred for its unique bloom pattern. Goldenrod is blamed for allergies, but it's actually ragweed that sheds the offending pollen, not goldenrod.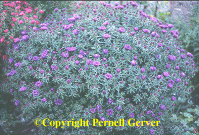 New England aster 'Purple Dome' is one of the more desirable asters because of its compact plant habit, eliminating any need for pinching to keep the plants short and bushy. 'Purple Dome' is aptly named because it forms a perfect dome of purple flowers 18 inches high and wide. It doesn't begin blooming until late in the season and is a good substitute for mums.
Japanese anemone 'Pamina' is one of the best varieties of Japanese anemone. It forms a handsome mound of foliage not quite two feet tall - no staking required! Flower stems rise through the foliage and stand three feet high. Dozens and dozens of rosy-lavender flowers bloom over a long period from early September right through frost. The double flowers have many petals surrounding a central cluster of orange stamens. It grows to 30 inches tall with the flowers.