Think of fall, and autumn leaves come to mind. The arrival of autumn brings with it cooler temperatures and shorter days. The arrival of autumn does not mean the end of bloom in the garden, however. Autumn is a time when many perennial flowers come into their own. Fall-flowering perennials keep the garden in colorful bloom through frosty weather when all other flowers have gone by. These late-summer and fall-blooming perennials are otherwise inconspicuous in the garden in spring and summer, but when the end of the season nears, they come forth in a flurry of bloom that starts in September, continues through the killing frosts of October, and many persist into winter and beyond to provide winter interest. Click on a plant name below to order it from Pernell Gerver's Online Store.
Beginning to bloom in late summer and continuing right to frost, hardy begonia is a lesser-known perennial that should be grown more.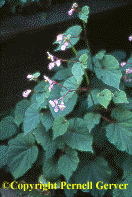 Pink hardy begonia is a bushy plant with light green foliage. The undersides of its angel-wing-shaped leaves are maroon with deep-red veins. It bears large clusters of pale-pink blooms from midsummer to frost. The flower clusters stand above the foliage and arch outward. It self sows readily, increasing the original planting. It grows 12 to 18 inches high and wide and is quite unique. It's one of the hardiest plants in my garden. It's growing in the coldest part of my garden and it comes back bigger and better every year. It grows well in shade to part sun.