Fringed bleeding heart is another spring-blooming perennial that begins blooming very early in the season. I've seen it in bloom in my garden as early as late March. The new cultivar 'King of Hearts' has medium-green, finely-divided foliage that forms a handsome, compact clump. Large, bleeding-heart-shaped flowers are held in clusters on stems that stand above the foliage. Unlike the common bleeding heart that goes dormant after blooming leaving a hole in the garden, fringed bleeding heart 'King of Hearts' blooms from early spring to frost, making it one of the longest-blooming perennials in the garden.
Epimedium rubrum is in full bloom in the garden right now. It grows about a foot tall and has interesting, spider-like flowers. The red flowers are held in clusters that rise through its foliage. As its leaves appear in spring, they have a red blush in the veins, giving them a netted appearance. As the leaves mature, they turn bright green. Epimedium rubrum spreads to form an attractive groundcover and it thrives in dry shade.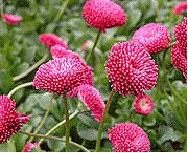 English daisy 'Rob Roy' is another spring-blooming perennial. It has deep green foliage and bears lovely deep-crimson flowers in spring. Each flower is fully double and resembles a pincushion. The flowers are held on short flower stems that stand above its foliage.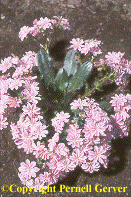 Late spring is the blooming time for lewisia, a rosette-forming plant with succulent-like foliage. Single or semi-double blooms in white, yellow, pink, orange-red, and blue-red appear from May to late June or early July and surround the foliage. It's a low-growing plant standing just six inches high.
Goldenrod 'Golden Fleece' is a low-growing variety of goldenrod that is a size breakthrough in the native wildflower. It forms a small mound of rounded leaves less than a foot high that is topped with sprays of golden-yellow flowers. It begins blooming in late summer and continues into mid autumn for a long season of bloom.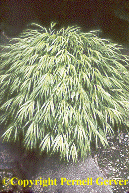 Hakonechloa macra 'Aureola' is a dwarf ornamental grass for shade. It forms a dense mass of arching stems variegated with bright gold and white. It grows just a foot and a half high and as wide, making it a good choice for small gardens. It's a beautiful, much-sought-after grass for shady spots.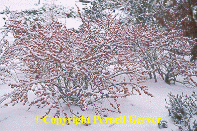 Shrubs for a small garden need to stay small and winterberry 'Red Sprite' is the perfect choice. It forms a rounded shrub just two to four feet high and wide. It's a deciduous holly who's stems are loaded with bright red berries up to 1/2" in diameter. The bright red berries on bare stems really stand out in winter against snow-covered ground. It's a must for winter gardens and a wonderful shrub for a small garden.
At my free gardening workshop this week I'll have a large display of these and many more small plants for small gardens for sale. See the "If You Go" box for more information.