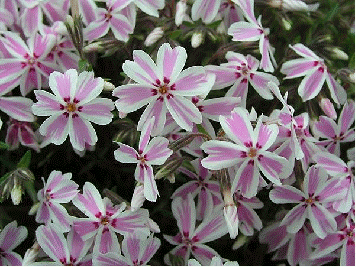 Moss phlox is a early-to-mid-spring-blooming perennial that thrives in sunny spots. It's a low-growing perennial that forms a dense mat. The variety 'Candy Stripe' has unique bicolor flowers. The flowers are white with a pink stripe running down each petal. It blooms in early to mid spring and is virtually covered in flowers when in bloom.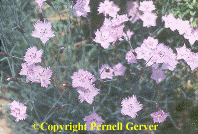 Dianthus is a mid- to late-spring-blooming perennial. The variety 'Bath's Pink' is an attractive, low-growing dianthus with silvery-gray foliage that is a nice addition to the flower bed or border, even when it's not in bloom. In late spring and early summer, single, fragrant, pink flowers stand a foot above the foliage. The strong fragrance resembles cloves - plant it where you can enjoy it!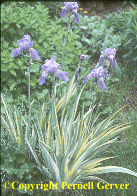 Bearded iris bloom in mid to late spring. One of the nicest ones is Iris pallida. It's a stunning, variegated iris. Its sword-like foliage is green with a wide, creamy-yellow center. Tall flower stems carry violet-blue flowers. The flowers have a sweet fragrance reminiscent of grapes. The flowers are a striking combination with the foliage. Even when not in bloom, this iris has something to offer the garden.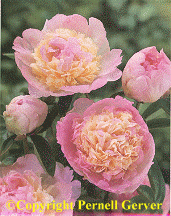 Peonies are the queens of the late-spring-blooming perennials. There are many different varieties of peonies and one of the showiest is 'Raspberry Sundae.' Its double flowers have a single row of light-pink-to-white outer petals with a cluster of ruffled, raspberry-pink center petals. The flowers really do look like a bowl of vanilla ice cream topped with raspberries. The flowers are six inches wide or more and very fragrant.