Lenten rose blooms about a month or so later than Christmas rose. In bloom alongside daffodils, the flowers of Lenten rose are creamy yellow, pale pink, rose, or deep maroon. Many are speckled or spotted. Lenton rose is also evergreen. It grows a foot and a half tall and forms a clump up to three feet wide at maturity.
For the deepest, darkest shade, there is a perennial that thrives in such conditions and it is called Ligularia 'The Rocket.' Its heart-shaped foliage is deeply cut along its edges. The leaves almost look prehistoric. It forms a two-foot-tall mound of foliage. In summer, five-foot-tall flower spikes rise above the leaves. The dark-purple stems are lined with bright, golden-yellow flowers.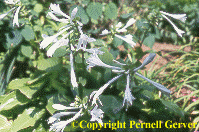 One of the most common perennials for shade is hosta. It's a large group of plants with a wide range of sizes, from miniatures that only grow several inches wide and tall to large varieties that grow several feet across or more. Hostas are grown mainly for their colorful foliage. There's a wide range of leaf colors from dusty blue to chartreuse. Many varieties have variegated foliage. A hosta I grow more for its flowers than for its foliage is called August lily. It bears six-inch-wide, tubular, white flowers in late summer. The flowers are extremely fragrant.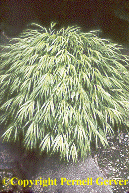 Hakonechloa is one of the best ornamental grasses for shade. It forms a dense mass of arching stems variegated with gold and white that really brighten up a shady spot in the garden. All the stems arch downward in the same direction, creating a flowing effect. Hakonechloa is a dwarf ornamental grass, growing only about a foot and a half tall and a couple of feet wide.