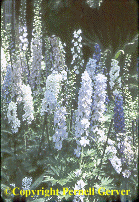 Delphinium is another perennial that provides a vertical accent in the garden. Its stately spikes of flowers in early to midsummer make delphinium a star of the summer flower bed. The flower spikes carry dozens of individual flowers that line its flower stem. Its tall spikes of flowers rise above other flowers in the garden. Plant it in the middle or back of the flower bed for a striking effect. It grows well in sun to part shade.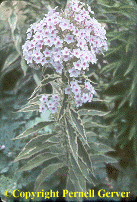 Tall garden phlox is another tall perennial that provides vertical interest. There are many different types of tall garden phlox, but one of my favorites is the variety 'Nora Leigh.' This variety has both attractive foliage and flowers. The leaves are edged with a thin band of creamy yellow and its foliage adds interest to the garden even when it's not in bloom. It bears large flower clusters that are pale pink with a deep-pink eye. Each flower cluster is quite large, nearly a foot tall. To prolong blooming, once the main flower cluster has gone by, pinch it off and side shoots will develop new flowers. 'Nora Leigh' grows about three feet tall and looks good in the middle to back of the flower bed or border.
Foxtail lily 'Shelford Pink' is a lesser-known perennial that bears dramatic flower spikes. Flowers are borne on tall spikes that can grow five feet tall or more. The spikes are leafless and slender, but sturdy, needing no staking to stand upright. The top two feet or so of each flower spike carries small, single flowers that are salmon pink. Each individual flower is less than an inch wide, but there are hundreds of them on each flower spike. The rounded flowers have prominent stamens that stand out from the flower. Foxtail lily has an interesting way of blooming. The flowers begin opening from the bottom of the spike and continue all the way to the top. It's a long-blooming perennial, taking many weeks for the spike to bloom from the bottom to the top. It thrives in a sunny spot in the garden.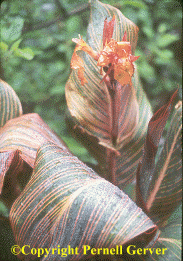 Canna 'Tropicanna' is a tall plant that has huge, dramatic leaves that are striped with gold, orange, pink, and green all set against a dark purple background. Eye-catching golden-orange flowers rise through the foliage and bloom from midsummer to frost. It grows four feet tall or more and looks good in the middle or back of the flower bed or border. I also like to grow it in large containers as a focal point.