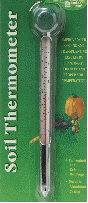 Proper soil temperature is critical for best germination. A soil thermometer should be used to monitor soil temperature. One that is marked with optimum soil temperatures for specific plants is a helpful tool for germinating seeds. Use the soil thermometer along with the propagation mat to keep an eye on soil temperatures in the seedling pots.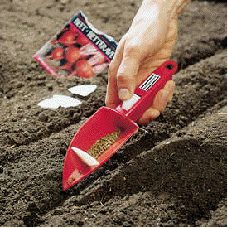 Many seeds that are started indoors are no bigger than dust. A seed sower comes in handy to help distribute them more accurately and evenly in the seed pot. The seed sower I use is shaped like a trowel with a thumb-click wheel on the handle. The click wheel causes a vibration that makes the seed "jump" off the sower and into the pot. I find it very handy for those extra-small seeds. I also use it outdoors in the vegetable garden for sowing small seeds like radish and carrot seeds.
I start all of my own flower, vegetable, and herb transplants. Every winter I start several thousand seeds for my garden and home landscape, so I have, by necessity, developed a seed-starting timetable of each and every plant. Each plant has its own proper seed-starting time and it varies, depending on the plant, from 12 weeks (which we're near now) to two weeks before the time the plant should be planted out in the garden. My list is based on the average last frost date of May 31. I start by counting backwards (measured in weeks) from that date.
I've learned over the years that each type of seed has its own ideal seed-starting method and may require special treatment. Oftentimes if you don't have success with a certain type of seed, it probably requires special attention. For each plant I have notes on soil temperature for best germination, to cover, cover lightly, or not to cover seeds, any special formulation of seed-starting mix to use, any seed pretreatments needed before sowing the seeds, whether to direct sow into peat pots, exclude light for germination or not, and any other valuable information I've discovered or learned on how best to start the particular seeds. Knowing what a particular type of seed needs for best germination makes all the difference in the world.
Because each plant is different each step along the way is also different from sowing the seeds in seed pots to transplanting the seedlings to cell packs to getting the seedlings acclimated to the outdoors by "hardening off."


Click here to order seed starting supplies from Pernell Gerver's Online Store.