When it comes to watering house plants there are basically three types of people - those who overwater, those who underwater, and those who water just right, but most fall into the overwaterer and underwaterer categories. Which one are you?
The fastest way to kill a house plant is by overwatering, however there are a few plants that will die just as fast if allowed to severely dry out. For house plant success, try to match your watering personality with the appropriate plant. The following are some good house plants for those who tend to overdo the watering. Click on a plant name below to order it from Pernell Gerver's Online Store.
Creeping fig (Ficus pumila) is one plant that should never be allowed to dry out. Overwatering this plant is not a problem. Creeping fig has small, heart-shaped, paper-thin, green leaves on long, trailing stems. It is often grown on moss-lined topiary forms. The stems cling to their support with aerial roots. It can be grown in a hanging basket or as a groundcover in a large pot. It grows well in low-light conditions.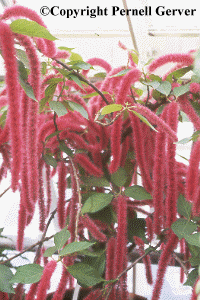 Chenille plant (Acalypha hispida) is a shrubby house plant with unique flowers. Its flower is actually a long, bright red tassel that hangs down from the stem. The tassel is soft and is usually a foot or more long. The flowers appear from the leaf axil, the spot on the stem where the leaf meets the stem. Chenille plant has long, wide leaves and can grow several feet tall. It prefers to be moist at all times.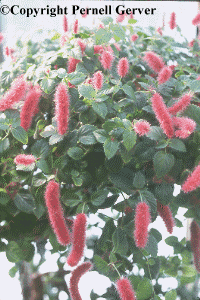 Another house plant related to chenille plant is called strawberry firetails. It's a trailing house plant with small, deep-green leaves on semi-woody long stems. Its flowers are fuzzy, red "tails" that appear in the axils of its leaves near the ends of its stems. They resemble chenille plant flowers, only shorter. Like chenille plant, the flowers of strawberry firetails are long lasting. In addition to growing indoors, I also grow strawberry firetails in container gardens outdoors during summer, where its long, trailing stems hang over the edges of the container. Like chenille plant, it prefers moist soil at all times.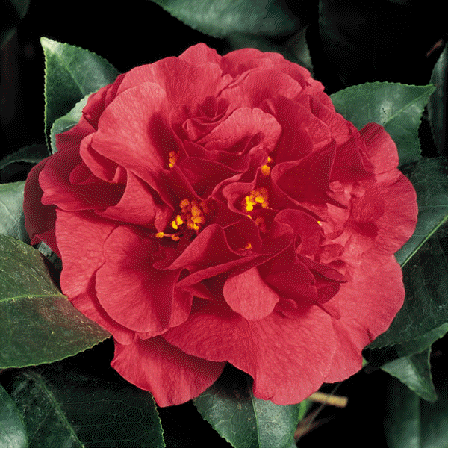 Camellia (Camellia japonica) is a flowering house plant shrub with showy flowers in late winter. Flower colors include red, pink, white, and bicolored. Depending on variety, flower form is single, semidouble, or double. Its leathery, shiny leaves resemble rhododendron foliage. This woody, indoor shrub does best in cool locations in the home. Keep the soil moist. To maintain its shape, prune it right after it flowers.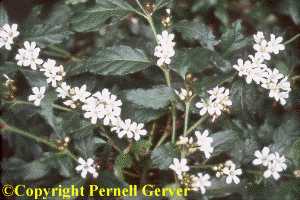 Of all of the house plants I grow, I think African gardenia is one of the best for many reasons. First, it's easy to grow, unlike its relative, the common gardenia. African gardenia blooms reliably indoors during winter (and all year long, for that matter!). Its small, star-shaped flowers are pink in bud and open creamy white. The flowers are held in clusters all along its stems and even the smallest stems will have a few flowers. There are dozens and dozens of flowers in bloom at any one time and, most importantly, their fragrance is wonderful! It's very similar to gardenia, albeit a little more subtle. The fragrance easily carries on the breeze, perfuming a room. It's a shrubby plant that looks similar to gardenia, but on a smaller scale. It has short, slender leaves that are carried on woody stems. It rarely grows larger than a couple of feet high and wide, making it a good choice for even a small windowsill garden. Not a fussy plant, African gardenia can be grown just about anywhere in the home - in a sunny or shady window, in cool or warm temperatures, in low or high humidity, and moist or dry soil.