Yellow trillium is a clump-forming trillium with multiple stems from one rhizome. It's great for mass planting. Long-lasting, pale-yellow-to-light-green flowers that stand upright on top of the center of its leaves appear in early spring. The solitary flowers are very long lasting, remaining colorful through spring. The flowers have a pleasant, lemon scent. It has oval, deep-purple-green leaves heavily mottled with large patches of silvery green.
Foamflower is a low, spreading wildflower that forms a dense carpet. White, bottle-brush-shaped flowers rise above the foliage in early spring. Its maple-shaped leaves form handsome clumps. It spreads by underground stems and makes a handsome groundcover for a shady spot in the garden. It looks especially nice planted beneath trees and shrubs.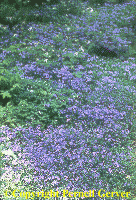 Blooming at the same time as foamflower is woodland phlox and when planted together their springtime floral display is stunning. Woodland phlox bears clusters of blue, star-shaped flowers that rise above the foliage on slender stems in early spring. Hundreds of flowers are in bloom at a time and large sweeps of woodland phlox become a sea of blue in spring.
Blue crested iris is a native iris that is a fine addition to the spring woodland wildflower garden. It's a small iris that creeps along by shallow, underground rhizomes to form large clumps. Each plant bears one to two flowers on a single flower stem two to three inches tall. Flowers are pale blue. When in full bloom in mid spring, a mature colony carpets the woodland floor with a sea of blue.