If you are looking for a specific plant or gardening product, but don't know which category it falls into, please click here for an Index of Plants and Gardening Products. Then click on the name and you will be taken right to that plant or gardening product. Or use the search box below. Type in a word or phrase, then click "Search Pernell Gerver's Online Store."
Look for this gift icon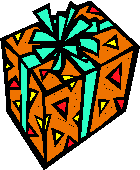 throughout the Online Store for great gift ideas or visit the "Gifts for Gardeners" page. We've put together a list of items that make great gifts for that special gardener on your list - or get something for yourself! Can't decide? Gift Certificates are also available in any denomination. Gift certificates can be used online or at Pernell Gerver's Gardening Workshops.
Order with confidence - all of our plants are top-quality and growing!
Be sure to visit the "Clearance Sale" page for great savings on selected plants. Click here for details.
Would you like to be the first to know about upcoming online sales, special offers, etc.? Provide us your email address below. You'll receive $5 off your first order of $25 or more when you sign up. (We do not sell or give your information to anyone.) Fill in the form below to add your name to our "Online Specials" newsletter.