Joyce Chen Unlimited Scissors
comfortable, easy-to-use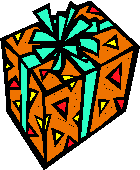 Flexible plastic handles are always gentle to your hands - for right and left-handed use. So versatile, they cut flower stems, florists' wire, rubber, plastic, paper, twigs - even chicken and chicken bones! Powerful leverage for quick, clean and easy cutting. Finely honed blades of chrome molybdenum stainless steel, with rust-resistant, no-stain finish. Lifetime Warranty. Available with blue, red, yellow, or white handles. Select handle color below - $35 each or 3 for $102.90 - You save $2.10!