Haws Handy Watering Can
Easy-to-use, comfortable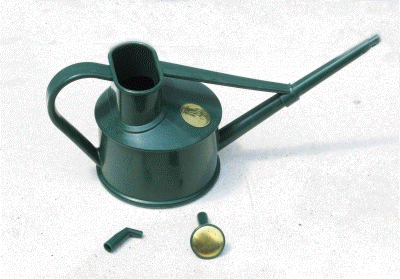 This compact, handy watering can is ideal for house plants, seedlings, or bonsai. Made of plastic, it's durable and long lasting. It holds one pint and has an extra-long spout for an extended reach. Comes with two nozzle attachments. The brass rose provides a soft shower of water that's gentle enough for even small seedlings and the right-angle nozzle allows for precise, no-spill watering in small pots. Measures 12" long by 5" high by 4" wide. Available in 9 colors - red, yellow, cream, dark green, royal blue, pale blue, lavender, pink, and silver - $20 each or 3 for $58.80 - You save $1.20!